Getting Outdoors is Proven to do Wonders for our Well Being
There are many reasons we head off on holiday, to relax, get away from work, de-stress, re-charge and be happy. Getting outdoors is proven to do wonders for our health and well-being. It helps reduce stress, lowers blood pressure and what's more, being in natural environments boost the endorphins which in turn creates happiness.
Being so close to the North York Moors National Park and being located in a small village in the countryside opens up all sorts of wonderful outdoor activities and adventures for all to enjoy and experience. Explore the countryside and natural environment on foot or by bike, enjoy some great views or check out our wonderful wildlife.
We are delighted to share a few ideas that you can take advantage of when staying at Helmsley Hideaway in North Yorkshire or be inspired find your own outdoor adventure.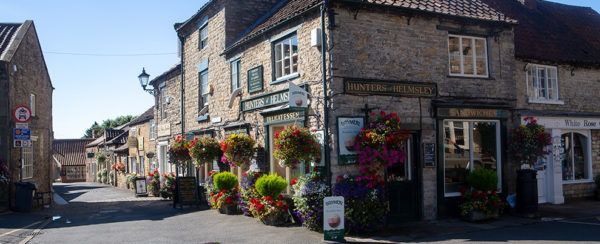 Explore Market Towns & Villages
The whole area around the village of Harome and the North York Moors is littered with busy market towns and pretty villages each with their own history and heritage. Goathland (of TV's Heartbeat fame) is one of the most famous but there are a number of others which you may well make your favourite.
Helmsley is the closest to our cottage and is the only market town actually in the North York Moors National Park, come and browse the curio shops, cafes and castle. Other popular and pretty little villages include the chocolate box Thornton-Le-Dale, Osmotherly and picture postcard Hutton le Hole. They are all great to stop at to have a mooch about, go for pub lunch or enjoy one of the friendly little cafes.
Head out onto the North York Moors coastline and you find the fishing village of Robin Hood's Bay, Sandsend, Whitby and Staithes which is renowned for its art. See North York Moors National Park market towns and villages.

Hiking & Walking
A great favourite for many who visit this part of the world as it offers such spectacular countryside, wildlife, great views and hidden delights. From short walks to more challenging hikes there is so much choice. All are pet friendly options and we offer a 'Muddy Boot & Muddy Paw Wash' option outside our cottage.
Here are a few walking routes and ideas for you to enjoy and explore:
Other shorter walks and ideas can also be found by following the following links: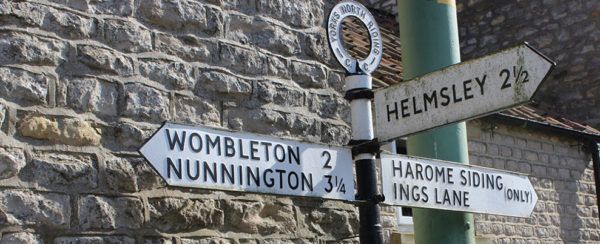 Biking & Cycling
Make your own cycling 'Tour de Yorkshire'! Another way to get around and explore this wonderful region of Yorkshire is on two wheels. Take your own or hire a bike locally or at one of the cycle trail centres in the National Park. There is something for everyone and all ages to enjoy from experienced mountain bikers, road tourers to recreational cyclists.
From the quiet lost lanes around Harome and Helmsley to the North York Moors there are miles of country lanes, forest trails, bridleways and old railway lines to explore.
There are a range of ideas, routes and inspirations which can be found on the North York Moors website which include a number of downloadable cycling routes that can be followed.
Moor to Sea Cycling Network – The 'Moor to Sea Cycle Network' provides you with some of the best cycling scenery in the UK and the best of the National Park. Approximately 150 miles of pedal-powered freedom.
Scarborough to Whitby – Great safe but enjoyable riding along the old coastal railway line is a fun route to follow as it heads up over high moorland above Rosedale Abbey then meanders through Cropton Forest.
Click here For More Cycling Inspirations
Cycle Hire – There are a number of options where you can hire bikes
Wildlife Watching
Coastal, woodland & moorlands – Go bird-watching, photography tours, spot minke whales and dolphins, go on wildlife themed walks and moorland safaris. See more information on wildlife watching.

Outdoor Adventure Activities
Try geocaching, learn bush craft skills, try basic rock climbing, rope swings and outdoor adventures in the North York Moors. Ideal for family fun and groups. For more information of Outdoor adventures.
Horse Riding
Enjoy and explore Yorkshire on horseback, try pony trekking with an organised group or for the more adventurous try horse-riding on beaches, open moorland, old railway lines and over 500 miles of quiet bridleways – See more for Horse riding in the North York Moors
Dark Skies at Night – Stargazing
With low light pollution levels and distant horizons the skies are opened up for a magnificent night sky experience. The North York Moors National Park offer the best views and also several observatories which you can visit including three Dark Skies Observatory sites; The Moors National Park Centre, Sutton Bank National Park Centre and Dalby Observatories in Dalby Forest. More Dark Sky information
Other Outdoor Activities & Ideas
For a selection of other outdoor ideas that may be enjoyed too, see the following or check out 'Things to See and Do' in the Local Area at Helmsley Hideaway:
Having had a great day outdoors come back to our cosy Overdale Cottage, our Helmsley Hideaway relax by the open fire and chill out with a glass of wine. On warmer days you can fire up the BBQ, cook al fresco and watch the sun go down.
Enjoy being outdoors at Helmsley Hideaway.
---