Explore Helmsley & Find the Hidden Gems
The pretty old market town of Helmsley is only 3 miles away from Helmsley Hideaway and our little village of Harome. It is the only market town set within North York Moors National Park. Helmsley is a great place to have a little mooch about, browse all the quirky shops and grab a coffee in one of the many street cafes.
Visit the National Centre for Birds of Prey, one of the many superb independent shops, award winning deli's to the old Norman Helmsley Castle and the historic walled gardens.
Plan Your Visit to Helmsley
There is something for everyone and so much to 'see & do' locally in and around Helmsley. See below to help plan your visit to Helmsley.
Shopping – Helmsley offers something quite different to the discerning shopper. There is a great choice of independent stores, galleries and classy boutiques. Great for browsing and finding something different. It is even home to what is officially Britain's Best Small Shop.
Food & Drink – From the Helmsley Brewing Company to Thomas the Baker. Enjoy some fine dining, local cosy cafes, tea rooms, great pubs and award-winning delis, there is something for all the taste buds to feast on. There are two Michelin starred restaurants nearby, one is in our little village – The Star Inn at Harome
Activities – Being right on the edge of the North York Moors National Park there are many local activities to experience. Great local walking, cycling, mountain biking, horse riding, swimming in the open air lido and lots more, Helmsley has it all including bike hire and an outdoors store for those walking essentials.
Attractions & Historic Sites – Arts, wildlife and history, there's something for all ages to experience, from the popular National Centre for Birds of Prey, the old medieval Helmsley Castle, old Abbey ruins to the impressive historic Walled Garden and much more to choose from.
Galleries – Helmsley boasts a wide range of local arts and crafts, including Helmsley Art Gallery, Helmsley Arts Centre and seek out the talented 'Stick Man'.
Local Amenities & Services
Practical Services – Being the nearest town it provides all the local amenities required. From beauty and natural health treatments to the more practical matters of taxis, chemists, supermarkets and convenience stores. Helmsley's local service providers are very friendly and helpful.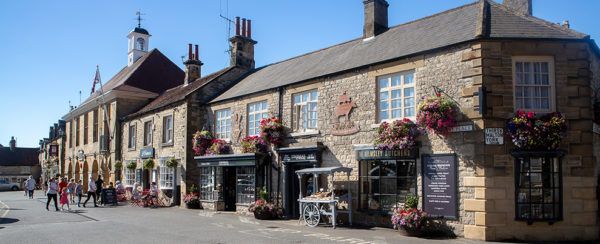 Being so close to our holiday cottage in Harome, our guests love visiting Helmsley. It offers something for everyone, all year round.
To find out more about this lovely market town see 'About Helmsley'.
Enjoy!
All at Helmsley Hideaway
---