You do not have to be a train buff to enjoy stepping back in time to the Victorian era and enjoying a superb round trip on the North Yorkshire Moors Railway. You can experience the delights and sights that this historic railway line and see the very best of the North York Moors National Park spectacular scenery and wildlife. Hop on, hop off at your leisure or opt for one the various itineraries on offer, including the 'Seaside Special' or 'Moors Explorer'.
Jump on at the market town of Pickering at the old 1930's themed station and take the 'Moors Explorer' which takes you on a scenic route through the spectacular North York Moors National Park all the way to the popular seaside town of Whitby. Alight half way and head out into the countryside at Goathland Village (aka Aidensfield in the TV series of Heartbeat) with its 1920's themed station, tea shops, souvenir shops and superb walk down to Mallyan Spout Waterfall for a couple of hours before continuing with your journey.
Jump back on the 'Seaside Special' with your reserved seats and continue your journey to Whitby. You will have four hours to explore this Head up the 199 steps to the atmospheric gothic ruins of Whitby Abbey, and find out all about Bram Stoker's 'Count Dracula' and the stories of vampires. Check out the old narrow cobbled streets, market stalls, curiosity shops, 'jet' stone jewellers and bustling fishing harbour.
Return by steam all the way back to Pickering old station in time to still head out for a well deserved evening meal out before heading back to Overdale Cottage, your lovely Helmsley Hideaway
To book this trip visit the North Yorkshire Moors Railway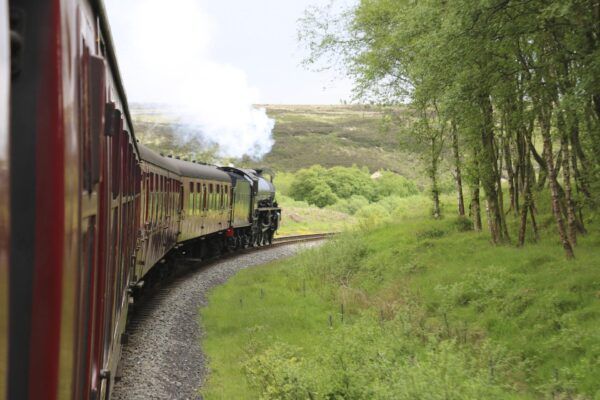 The North Yorkshire Moor Railway
The North Yorkshire Moors Railway is one of the busiest steam heritage railway lines in the world and runs right through the North York Moors National Park. The old historic steam line has a series of stations en-route at Whiltby, Grosmont, Goathland, Levisham, Newtondale Holt and Pickering. It is 18 miles long and the third longest standard gauge lines in the UK (the longest being after the West Somerset Railway at 22.75 miles). It was first opened in 1836 as the Whitby and Pickering Railway, planned originally by George Stephenson as a trade routes inland from the important seaport of Whitby. The lovely old preserved railway line is now a well acclaimed and popular tourist attraction.
Have a great day out with your family, loved ones or friends and send us your photos of your memories.
Useful Links:
Direction using Google Maps – North Yorkshire Moor Railway – Pickering Station from Helmsley Hideaway
---